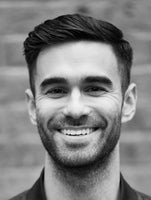 FINDING YOUR FIT.
I am a Level 4 CIMSPA accredited Personal Trainer based in Surrey, offering individual (1:1), partner (2:1), small group and online training.
As a PT my job is to provide you with consistency, accountability and expertise by designing sessions that push your body to adapt and to become stronger and fitter.
I get a real satisfaction helping people to improve not only their fitness levels, but also their self confidence and positivity levels through training. 
Mental health is just as important to me as physical health which is why we should stop to recognise all progress, no matter how small, and celebrate every "small win" along the way!
Life changing and lasting results do not happen overnight, but they will come and you will see both momentum and enjoyment start to build. 
I am here to guide and support you along the way.
MORE ABOUT ME.
TESTIMONIALS
Adam Russell is a first-rate personal trainer, knowledgeable on medical issues and good at the psychology of keeping fit.

The sessions are tailored to the individual and I've enjoyed them. Adam recognises that getting fit is a marathon, not a sprint!

JEREMY
Adam and his sessions have been so vital in creating and maintaining a long-term active lifestyle for me!  Having a consistent, weekly check-in has been key to this.

He is so friendly and personable but doesn't hold back in pushing you to not give up on those last reps or seconds. Highly motivating, highly recommend!

ALICE
After having a baby I decided it was time to get back in shape but feeling unconfident, the gym wasn't really for me.

Adam was able to motivate me sensitively and appropriately to get fit and healthy again. I've noticed a huge change in my level of fitness, as well as my self esteem. Our sessions together are challenging but always fun!

AMY
Adam trained us as a pair, and tailored our weekly sessions to suit our individual needs.

His motivational attitude and encouragement helped us both power through some pretty tough workouts, and through his simple teaching methods, we learned some great techniques!

CHERLYNN & TIM
You can tell that every session you have with Adam is well thought out and considerate to the individual.

Not only did I see great results but also Adam has a fantastic approach to keep me motivated, engaged and pushed me without it ever feeling like work. I always left looking forward to the next time.

SIMON
I was very nervous before my first training session but Adam put me at ease very quickly and I really enjoyed training with him.

He knows how to get the best out of clients- he pushed me to my limits while keeping a smile on my face! I would highly recommend him for all personal training needs at all levels.

NAVDEEP
I've been training with Adam for a year now and have noticed a complete change in my fitness levels and all also my attitude to working out - I enjoy it and look forward to my sessions!

They're always hard work but enjoyable and Adam is always encouraging and supportive.

LAURA G.
Adam pushes me to achieve my very best, whilst keeping me smiling throughout every workout.

I feel more confident using weights...something I hadn't dared to do before, and have seen incredible improvement in such a short space of time after training with him.

JASMIN
As someone who will find anything else to do but exercise, I can genuinely say that I started to look forward to the gym when Adam was training me.

His demeanour is really motivational and he understands how far he can push...without pushing you over the edge. Could not recommend enough.

TIM